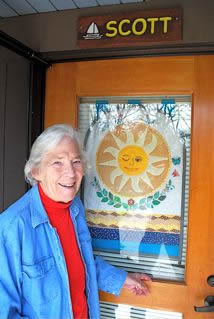 As a child, Scott went with her mother to the ancient Friends Meeting house in Wrightstown, Bucks County, Pennsylvania for Sunday worship. Ann's mother was familiar with Quaker ways having attended a Friends school in Philadelphia where she learned traditional Quaker values of simplicity, equality, integrity and peace, values she passed on to Ann from her earliest days. Ann also came to feel at home with Quaker silence, "waiting upon the Lord" as old Friends would say.
At Germantown Friends and George School, Quaker testimonies were part of the way of life, but Scott's spiritual life was not nourished by the restless compulsory meetings for worship and it never occurred to her that she might become a Friend. In fact, in those days she would have hooted at the thought.
It was only in her mid-twenties at a difficult time in her life that Ann returned to the deep silent worship of Wrightstown Meeting and became a member of the Society of Friends. Joining Friends is like a marriage, a lifelong commitment through years of ups and downs. Out of that commitment Ann and her husband Bill helped found Reno Meeting, the first Friends Meeting in Nevada, and stayed faithfully in that little Meeting through good times and trying times over thirty-three years.
There was much new life in the Society of Friends on the West Coast when the Scotts moved to Reno and they were part of the leadership. For seven years Bill clerked the annual Quaker theology workshop and Ann served as registrar. The Scotts were also crucial in establishing the West Coast Conference on Religion and Psychology, again with Bill serving as clerk and Ann as registrar. Ann also served on the Ministry and Oversight Committee of Pacific Yearly Meeting and clerked the Religious Education Committee of that body.
Many responsibilities, both in Reno Meeting and the wider Quaker Community, took Ann's time. These Friends' concerns and the action in the world that inevitably grew from them usually received more of Scott's energy than her writing. Only her husband and the children were given more.
Along with all the Quaker committee responsibilities came the great satisfaction of deep silent worship. Most meaningful of all for Scott was a series of monthly silent retreats at an isolated ranch in the hill country of the Sierra. In the years when her children were young and demands seemed continuous, these days of silence saved her spiritual life.
Now, with committee work a thing of the past, Ann treasures the weekly silent worship at Friends House. She also attends, as she is able, the half-hour of silent meditation at seven o'clock each morning, a wonderful way to start the day. The traditional Quaker testimonies of simplicity, equality, peace and integrity continue to shape her life.